C-Level: Chief People Officer
Capability: Training & Development
Service Offering: Leadership Development
---
LEADERSHIP SERIES




Managers Should Terminate Employees with Dignity and Respect
---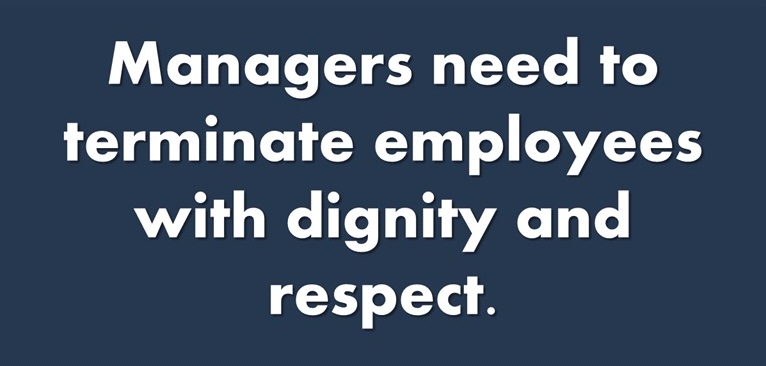 ---
The bottom line is that if you are in a leadership role, you have an obligation to treat every team member with dignity and respect, including through the separation process.
My inspiration to complete this post came today during a group interview conducted by our Vice President of Service Delivery Operations and myself. We were interviewing staffing and recruiting professionals with prior supervisory experience and the issue of termination decisions came up again.
"It's never easy to have to terminate someone," asserted one candidate. When I asked why, I received the same answer that I've heard hundreds of times before: "It's uncomfortable; I never want to terminate someone."
What follows is my response which I now share with you.
Why? Why is it so difficult to terminate someone? If you've done everything you can as a manager, as a leader, as a coach and mentor, and they still are not fulfilling their obligations, isn't it clear they're not right for the role?
---
Isn't it far worse for your team member if you keep them in the role knowing full well they're not going to meet your expectations and as a result, never be highly rewarded for their efforts? Is that fair to them? And all because you don't have the managerial courage to have a crucial conversation with them and let them go on to something else?
---
To be a manager and a leader requires courage to have candid conversations and sometimes let people know that their skills are better suited for a different role.
If you have a servant leader mentality, you should be committed to their success in addition to the organization you represent. That means you must recognize that they are a rock star somewhere – even if it's not on your team. In the best case scenario, you can help them understand that and provide the career counseling and coaching needed to help them land on their feet in a different role where they can be a high performer and be richly rewarded for what they can do well.
---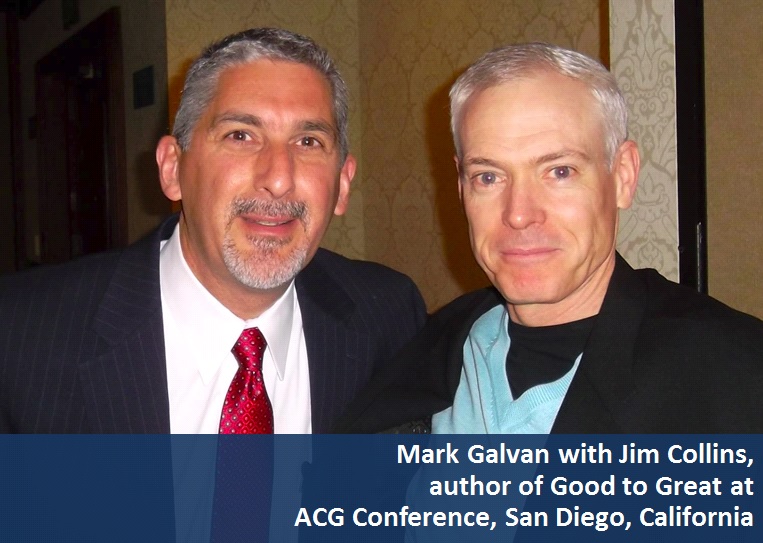 ---
A couple years ago at the ACG (Association for Corporate Growth) conference in San Diego, I had a chance to have breakfast with Jim Collins, author of the book, Good to Great. Before breakfast, I asked him, "Of all of the components within the Good to Great model, what is the one thing that if a leader does not get right, will render the rest of the formula completely ineffective?" Without hesitation, Jim's response was, "There is definitely one most important component. It is simply that, for at least 80% of your key positions, you have the right people in those seats on the bus."
That means as a manager or leader you have an obligation to the organization you represent to find the right people for every seat that represents a key role on your bus. However, as a servant leader, you also have an obligation to treat every team member with dignity and respect, including through a separation process.
If you do your job right, that person will eventually be appreciative of your candor and courage to communicate honestly and genuinely how best they fit or don't fit in the organization and what they can do to be in the right seat on someone else's bus where they can be a rock star and be rewarded as a high performer. Next time you are considering what seems to be an inevitable termination, consider that they are someone else's top performer and help them discover how to get in the right seat on their bus.
……………………………………………………………………………
Mark Galvan is the Talent Acquisition Practice Lead, Chief Innovator and Founder of P4S Consulting which is globally headquartered in Dallas, Texas USA.
P4S Consulting offers both small and large clients…
   ★  Talent Management Services, Staffing, Recruiting, RPO and Consulting
   ★  Training and Speaker Services for Professional and Industry Groups
   ★  Operational Excellence Support and Consulting Solutions
   ★  Fractional C-Level Executive Support for SMBs